So, Alison, one of my friends from Camp Ozark back in the day generally does a post each Wednesday titled "Way Back Wednesday" to look back at old times. Her pictures are usually funny or sometimes sweet, but either way I always enjoy it. Plus, I know it can sometimes seem like no one out there is reading - this whole blogging thing can often feel like a one-way street so I thought I'd let her know I liked it! Here's a link to her blog: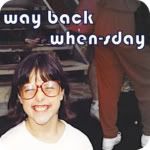 By the way - I'm pretty proud of figuring out how to add that button (not that it was too difficult, I'm just still learning how this whole blog world works). Anyone want to explain to me what a link party is???

And of course, I thought I'd add some of my own Way Back Wednesday pics - and since its that time of year, I thought I'd do some old Christmas pics. Including today, there are only THREE Wednesdays left until Christmas (scary thought since we haven't done our Christmas shopping yet!) so I thought today I'd do pre-marriage/childhood photos today and then our most recent Christmases the next two weeks. Most of these pics are pre-digital age - I have a few pics scanned in prior ones that people have sent me before I got my digital camera for various projects that I've done - enjoy! :)

Memphis - I love Megan (bottom right) and Ryan's (next to Moms) expressions...Moms sure knows how to excited everyone!

Another Christmas in Memphis - Clarissa wore the shirt I was wearing on Clarissa explains it all, I totally thought I was so cool!
Apparently this is '96...I think this may have been in my "too cool for school" phase
Christmas in Dallas - not sure the year, but Will and Katie look so cute!!
I believe this was our cousin dance to "Keathley Pies for this Bunch" (lyrics written to tune of "Sugar Pie Honey Bunch" - don't ask how we started a tradition where the cousins are required to do a performance?! Luckily we've gotten out of it the past few years...
Probably an encore performance..

Fort Worth - Denise & I

I made this for Dad & Renee... Still want to beat Renee in Words with Friends! I think she cheats :)
Brothers
Christmas in Alabama
 
Have to have matching jammies...thanks Mom, we know its a hassle but we still love this tradition!

Fort Worth Christmas - Enjoying the new karoke machine- my apologies to all of you who had to listen!

Another year, different pajamas!

Another Moms and Pops game - Deal or No Deal! This was one of my favs - along with the year they set up a full game of "Who Wants to be a Millionare" with family trivia (complete with lifelines and all!)
Merry Christmas!