Well, only one day late - let's just pretend this was posted yesterday...
It's that time again....Way Back Wednesday time!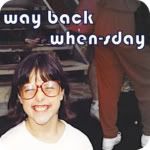 In keeping with the holiday tradition, here are a few more ghosts of Christmas Past...
2007 - Tim and I's first married Christmas! We started our celebration with my Dad and Renee coming to Birmingham a few days before Christmas to visit Tim, Rhett & I.
Tim modeling his gift
Dad & Renee in our apartment - Tim & I's first time to host a holiday!
Opening gifts
Then, Tim & I headed to Nebraska for more celebrating - my first Christmas with the Snider/Suchan/Graff clans and they welcomed me with open arms!
Mike, Jody, Tim, me, Amber
The whole crew!
Sad to admit I didn't get any pics in what I affectionately like to call P-town (Palmyra, Nebraska), but we did also have Christmas with Dan, Teresa and Shae there! This is also the very first time Tim & I got to meet our godson, Landon (Nate & Lisa's son)!! Isn't he the cutest?
1 month old - December 2007
2008 - My mom and Allen have a house in Naples, Florida, so for this year, Rhett, Ryan, Pam, Tim & I were all able to come to celebrate Christmas - we even had Christmas morning festivities outside on their back porch - what a different experience! It was such beautiful weather.
This is the life!
Pam getting in on the action with the singer at the restaurant - also love Ryan in the background
Pam, Ryan, Rhett - siblings!
And there you have it...now, can you believe there's only ONE MORE wednesday before Christmas???